Customized Profile Decor for Catster and Dogster
Presented by Pawsome Pages
Last revised: 03/30/2010


We want to thank Dogster, Inc. for hosting the Frame_ID script on their server!
Removing the Frame | Simple Profile Backgrounds | Add a Banner or Two | Faux Frame Style | Making a New Frame |
This series gives some tips on how to decorate your pages at Dogster and Catster. The majority of it explains a method on how to alter the frame around your profile. It is divided into 3 parts: Introduction to the Frame Parts, Removing the Frame, and Create Your Own Customized Frame. So let's begin.
Introduction to the Profile and Frame Parts
The frame is made up of 4 parts.
#topFrame


This image is 775 pixels wide and runs across the top of the profile.

#rightFrame


The band which runs down the right side is 20 pixels wide.

#bottomFrame


As the name indicates, it is the bottom of the frame. The size is 775 pixels wide.

#leftFrame


This is a band 22 pixels wide.
BBoth the left and right frames start at the bottom edge of the top frame and continue down to the top edge of the bottom frame.
Map of Frame and Container IDs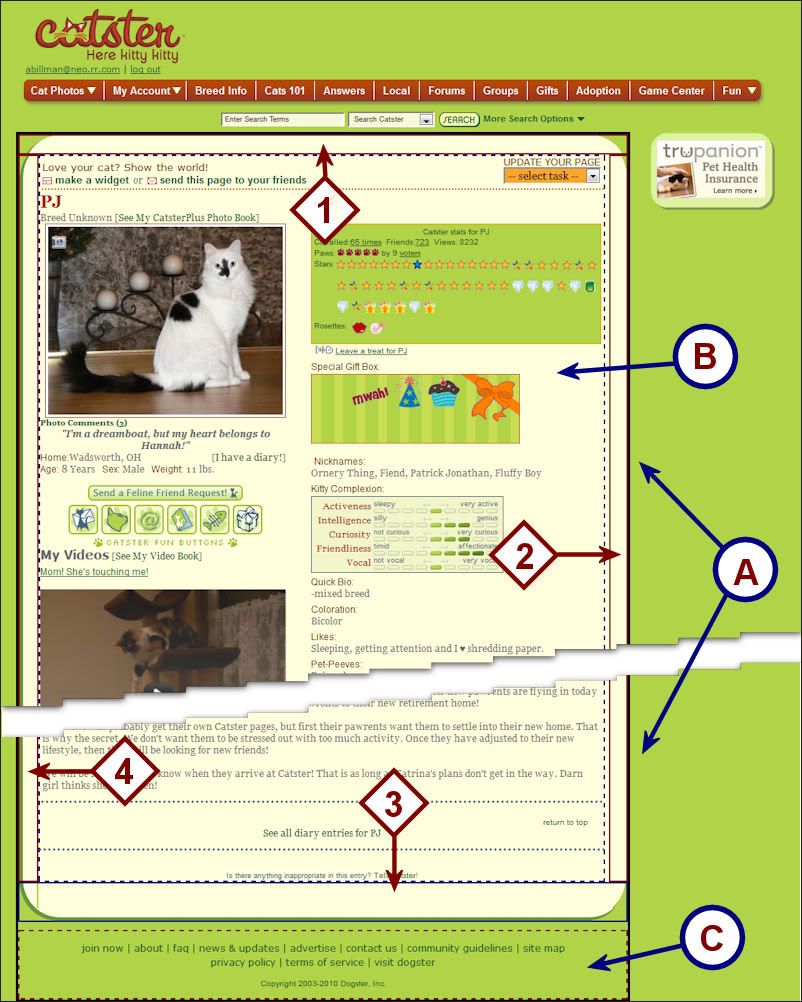 There 3 more containers we need to identify.
#contentTable


Holds our pictures, bio fields and diaries. It includes the frame and the footer area below the frame. It extends from the top of the top frame all the way down to the bottom of the page. The width of this area is 775 pixels.

#profileContent


This is the area within the frame containing the pictures and text (our profiles). This container is 720 pixels wide.

#siteFooter


The footer area has the site and contact information for Catster/Dogster. The footer is 775 pixels wide.
Please note: #contentTable is the main container and many of the other parts sitting on TOP of it. Those parts include all of the frame pieces, #profileContent and #siteFooter.
Now that we have all of the pieces parts identified, we can proceed with how to use the IDs.
Next >>
"No Frames!" How to remove the profile frame and add a background.